Top 10 Most Reclassified Workers Comp Governing Class Codes – NCCI
Every year, I try to cover the most reclassified Workers Comp Governing Class Codes. The NCCI provided a great video and handout here.
One point to note – the reclassified codes were the governing class codes.
Governing Class Codes Are Important For Comparison
Governing class codes are:
That classification, or combination of related companion classifications, other than the Standard Exception classification(s), to which the largest amount of payroll, exclusive of the payroll of miscellaneous employees, is assigned.
Notice that Codes 8810 and 8742 were switched the most – to an insurance company code 8723 Insurance Companies. I found that to be an interesting switch.
As you look at the below table, NOC (Not Otherwise Classified) to me, means that the classification code defaulted to this code.
Based on the data from the Program, the table below includes the top 10 governing codes reclassified between 2018 and 2020 and the top code to which each of these codes was reassigned.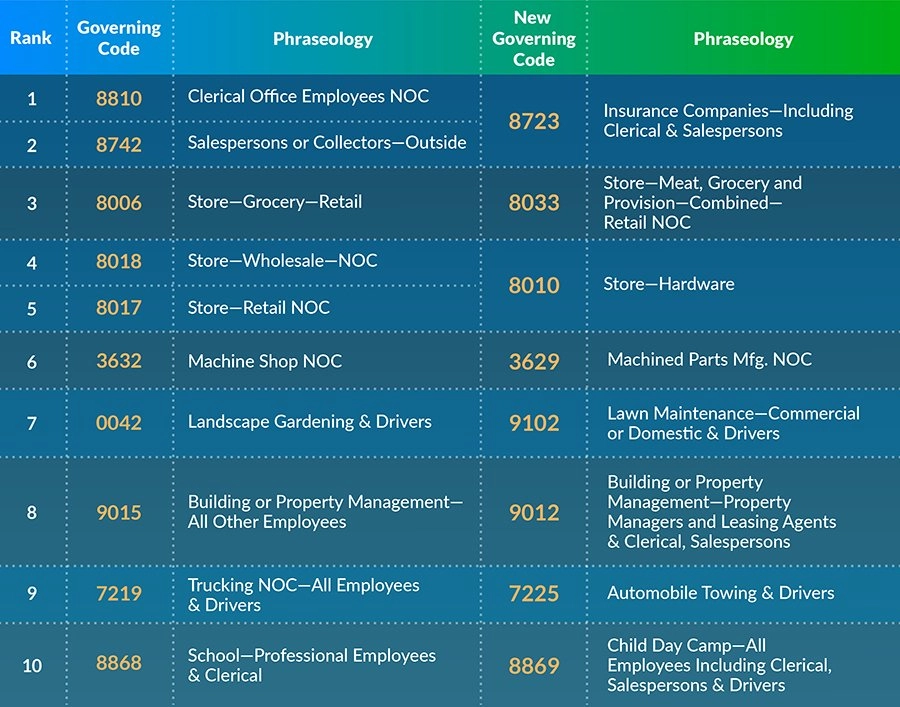 Reclassified Workers Comp Class Code 3632 Covered By NCCI This Year
As last year, NCCI covered one of the Top 10 Governing Workers Comp Class Codes. This year it was Class Code 3632 Machine Shop NOC.
Code 3632 applies to automotive machine shops that do not work on vehicles but on parts or engines that have been removed from the vehicle. This classification also applies to employers that manufacture projectile and shell casings or perform tool sharpening operations for industrial tools.
Let us look at what the 3632 Code was reclassified to by NCCI.
Worker Comp Class Code 3632 Alternatives
These three class codes cover 53% of which class codes the business was switched to post-inspection. That number still leaves 47% as switched to other codes.
3629—Machined Parts Mfg. NOC
3612—Pump Mfg.
3113—Tool Mfg.—Not Drop or Machine Forged NOC
I did not list the reasons for each governing class code switch. The article covers those in detail. Once again thanks to Christine Pike at NCCI for her assistance in producing this article.
©J&L Risk Management Inc Copyright Notice