Workers Comps Future – Recruiting & Retaining the Next Generation of Claims Talent
The Workers Comps future rests on the next generation of claims talent.
Jennifer Burkhart | National Workers' Comp Claims Leader, Westfield Insurance
Dan Holden | Manager of Corporate Risk & Insurance, Daimler Trucks North America
Rick Thompson | VP of Talent Management & Administration, Rising Medical Solutions
November 12, 2015 2:00pm – 3:15pm
*The title may seem incorrect. The WordPress system does not like apostrophes. Please excuse the odd-sounding phrase.
This NWCDC Session was PM5 from the Program Management track. I decided to attend this one as this subject was one of the major concerns at the Rising Medical Think-Tank from earlier this year.
One of the better slides during this session pointed out how offices were 10 years ago.
No cell phones while at work.
Business formal dress code.
Very little schedule flexibility or work from home.
Employee handbook over 100 pages.<<<Actually a conservative figure
Annual reviews (quarterly today, with daily huddles and weekly touch-bases).
Less than 10% of workers were Millennials (today it's over 50%).
One computer desktop/screen. Few laptops. No smartphones or tablets.
Virtually no online collaboration (email document-based).
The session centered very heavily on appealing to Millennial generation workers. One statistic that was shocking to me was the workforce now being 50% Millenials.
Millennial Challenges
They don't know/care about insurance/risk management (not "sexy" or fun). That is actually a given.
Loyalty/commitment (high turnover). This was occurring in the industry long before Millennials were on the scene.
Talent shortage of 85,000 commercial claims professionals in 2015 (Deloitte). Expected to grow to 400,000 in five years (Insurance Journal).
WSJ – Insurance on "least desirable industries" list.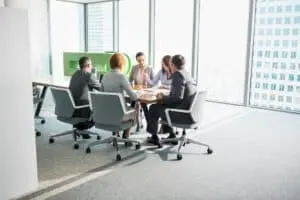 Until this session, I did not realize the insurance industry is and will be experiencing such a heavy shortage of workers. The shortage reaching almost 1/2 million workers total is astounding.
The rest of the session covered how each respective company is recruiting, training, and retaining the millennial generation. This was a great session that "looked outside the box" so to speak.
©J&L Risk Management Inc Copyright Notice