Term Of The Day – Interstate Rating
Interstate Rating is experience modification factors that apply across more than one state. They are administered and calculated by the NCCI for employers who have shown payroll for more than one state in the past.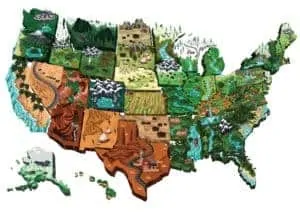 Nearly every state in the country participates in the interstate rating system. There are exceptions to every rule because there are still some states who have chosen not to participate. These states are Pennsylvania, California, New Jersey, Michigan, and Delaware.
These states have their own independent rating bureaus and do not want to co-mingle their rating factors with other states. These independent states may have such differing rating factors that NCCI could not use their calculations. Attempting to figure out one Experience Modification Factor can be difficult when applying multiple Mod into one.
The classic employer types that have interstate ratings are:
Companies with multi-state operations
Trucking companies with multiple terminals
Larger national companies
Companies that have businesses near state lines
Modification factors for payroll for these 5 states are calculated by the state's own rating bureau. Employers who have exposure in participating states and these nonparticipating states could possibly have 6 separate and different experience modification factors. The experience modification factor would only apply to the exposure in each stand-alone state.
After speaking with representatives from a few of the nonparticipating states, I came to the conclusion they were not amenable to ratings other than their own states. Interstate ratings may become more popular in the future but not immediately for the five listed states.
©J&L Risk Management Inc Copyright Notice